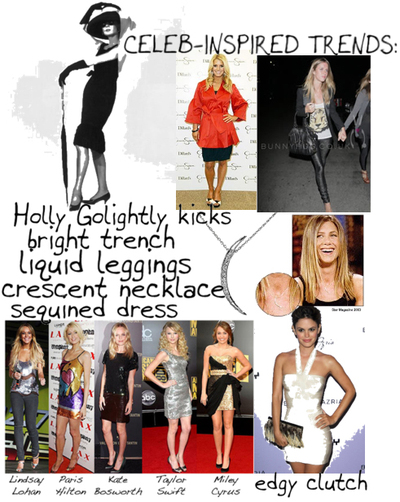 by Carly J. Cais, Fashion Designer & ChicSteals blog
As a designer I've developed an eye for style over the years, and an appreciation for the fact that sometimes, designer pricetags can be downright scary. While life necessitates a splurge once in a while on that can't-live-without-it fabulous item, much of the fun of fashion is mixing high with low to create outfits that are creative, and also budget-friendly. Each week, I showcase five hot designer-style steals (each for $100 or, in most cases, for much, much less)…along with one must-splurge item.
Since all year we focus on getting that look for less, at least once an annum we indulge in dreaming of getting that look…for, well – gasp! – retail. And the holidays are the perfect time to indulge in sparkly dresses, sleek clutches, and feminine toppers.Inspired by our fave celebs and fabulous fashionistas, here's our fantasy a-girl-can-dream wish list of five fashionable items for the perfect holiday look, plus a festive splurge:

LIQUID LEGGINGS From Mischa Barton to Kate Bosworth to Lauren Conrad, the ruched Black Rats by Sass & Bide have become a favorite Hollywood way of showing off their gym-toned gams. The subtle wet-look sheen updates the quintessential legging, making it modern and sleek whether paired with a tunic, oversize tee, or black drapey top and black blazer for an Olson-sister-inspired look. Sass & Bide Black Rats leggings $180 at Net-a-Porter.com.
(Chic Steal: The $21 ING Faux Leather Legging from Macys.com)

BROOCH-DETAIL PUMPS Show off your fabulous legs (or leggings) in perfectly pointy and tres Audrey Hepburn-esque pumps. The 3″ heel is the perfect counterpoint to the retro-chic brooch at the front, and Audrey would have no doubt appreciated the iconic red sole, courtesy of Monsieur Louboutin. (To get the look for a tad less, pick up a pair of affordable satin pumps like the Abaete for Payless Zoey ribbon-weave pump
and add a shoe-clip or a vintage-style brooch – Sorrelli makes an eyecatching crystal-cluster pin.)
We love this look for evening or everyday glam with a pair of skinny jeans or with a pair of bold cobalt Hue tights. Christian Louboutin Satin Brooch Pump $865 at FootCandyShoes.com. (Chic Shoe Steal: Satin Rosette Peep-Toe Heel $23 from GoJane.com)

SEQUINED DRESS You heard it here first: sequins are a huge trend for celebs & the rest of us for 2009, especially sequin shift dresses. The sweet design and shrunken shape are just perfect for a holiday fete…even if you leave the bow at home for fear of looking like a human Xmas package. Perfect with slightly sheer dark tights, bare legs (if you dare), or even under a military-style jacket and jeans for day (trust us – it really works!). L'Ecole Des Femmes Sequin Bow Dress $218 (sale) at ASOS.com. (Chic Steal: Sequin Minidress $40 at Forever21.com)

CHEERY TRENCH Make like Jessica Simpson and inspire a bit of Holiday spirit in a festive bright red trench. The tailoring and shape create a feminine silhouette, and the fact it's from Fendi means it will keep you in chic style for a long while. Pair with slim-cut drapey pants in a contrasting white, or try a coordinating print dress and oversized earrings. Fendi Cotton Twill Trench $1850 at eLuxury.com. (Chic Steal: Animal-Lined Trench Coat $90 from Spiegel.com)

EDGY CLUTCH Birds of a fashion feather – like Rachel Bilson – know that a fabulous, custom-made clutch in is just the thing to cure the holiday blues. This retro redux number by Antoinette Lee – fans include Gwyneth Paltrow and Heidi Montag – is the perfect size for carrying all your essentials plus necessary extras, and it features a detachable cuff that's like a separate piece of jewelry all by itself (not to mention built-in security). Whether paired with a tee tunic and leggings or a short frilly frock, when cuffed on, you will literally be a slave to your fabulous purse. Lua Chain Clutch $271 from StarsandInfiniteDarkness.com. (Chic Steal: purple faux leather (vegan!) Julie clutch $33 at Amazon.com)
STEAL OF THE WEEK: PAVE MOON NECKLACE The best things really do come in small packages, and sometimes even with a small pricetag. This $40 crescent moon pave necklace in a rhodium finish looks luxurious and fabulous – a la Jennifer Aniston. Ultra-thin, ultra-light, and ultra-affordable, the 1.5″ sparkle at your throat would look equally chic with a celeb-worthy LBD, or even at the collar of a cozy pointelle-knit cardigan. Crescent Moon Necklace $40 from PortiaJewelry.com.
And our ultra-steal of the week that costs nothing to wish for? World peace, of course, and Goodwill to all! Happy Holidays from all of us here at ChicSteals and Fashiontribes.com – and may 2009 be an even more wonderful year for all of you.
– Carly J. Cais
Tags:
Carly's Chic Steals & Fashion Deals of the Week
,
Celeb Style
,
Christmas
,
holidays
,
My FashionTribes Articles
,
Shopping